Torrens
About a million years ago (1957 to be precise) I found myself, aged eight, the youngest captain of the "Cutty Sark". Standing resolutely at her wheel, we were rounding Cape Horn in a hurricane. Then my parents and I went to visit the National Maritime Museum. That visit to "Cutty Sark" was very influential. I developed an interest in veteran sailing vessels that has remained to this day. Years later I commenced a seagoing career, joining the Merchant Navy as Cadet.
Now retired I have more time for model building, and have completed a number of ships, mostly static period vessels, usually built from the most excellent kits available today. A new project beckoned, but what would it be? 
Thumbing through a copy of the catalogue for the Harold A Underhill drawings of sailing vessels, I kept returning to the colonial clipper "Torrens", built for carrying wool and passengers on the Australian run. Drawings sent for and arrived.
"Torrens" was built in 1875 by James Laing of Sunderland to the joint order of Elders, Smith & Co, and Captain H R Angel, who had a major design input to the new vessel. She was of composite construction; teak planking and decks laid onto iron frames. Three masted, ship-rigged (square rigged on all masts) the ship was named for Colonel Robert Torrens, an advocate of trade with South Australia. Under Captain Angel, the ship made 15 successful voyages between the UK and South Australia. She carried passengers as well as cargo, with a high standard of accommodation for the period. In later years the author Josef Conrad sailed in her as Mate. Although not designed as an extreme clipper, having a fuller hull form than "Cutty Sark" and her contemporaries, "Torrens" was heavily rigged with skysails and stunsails. Under Captain Angel she always made smart passages.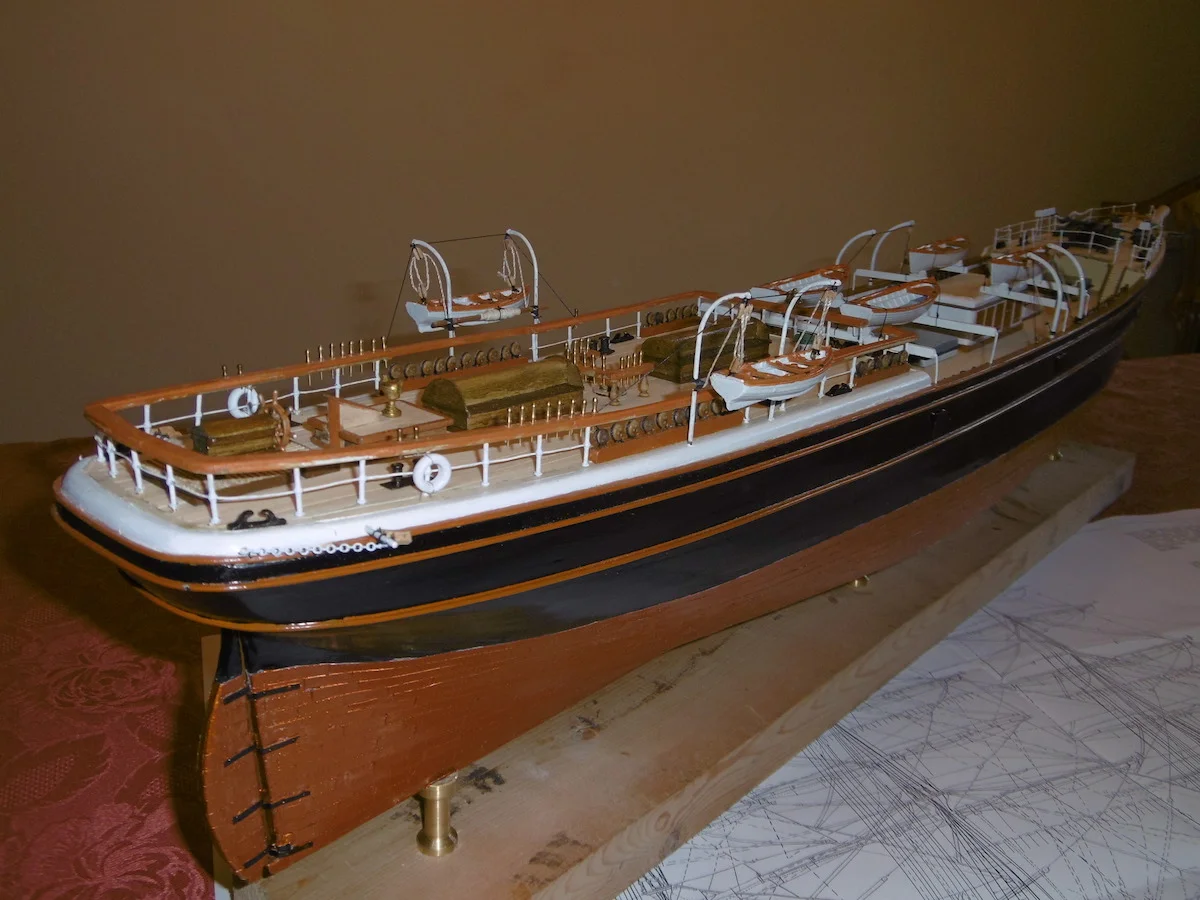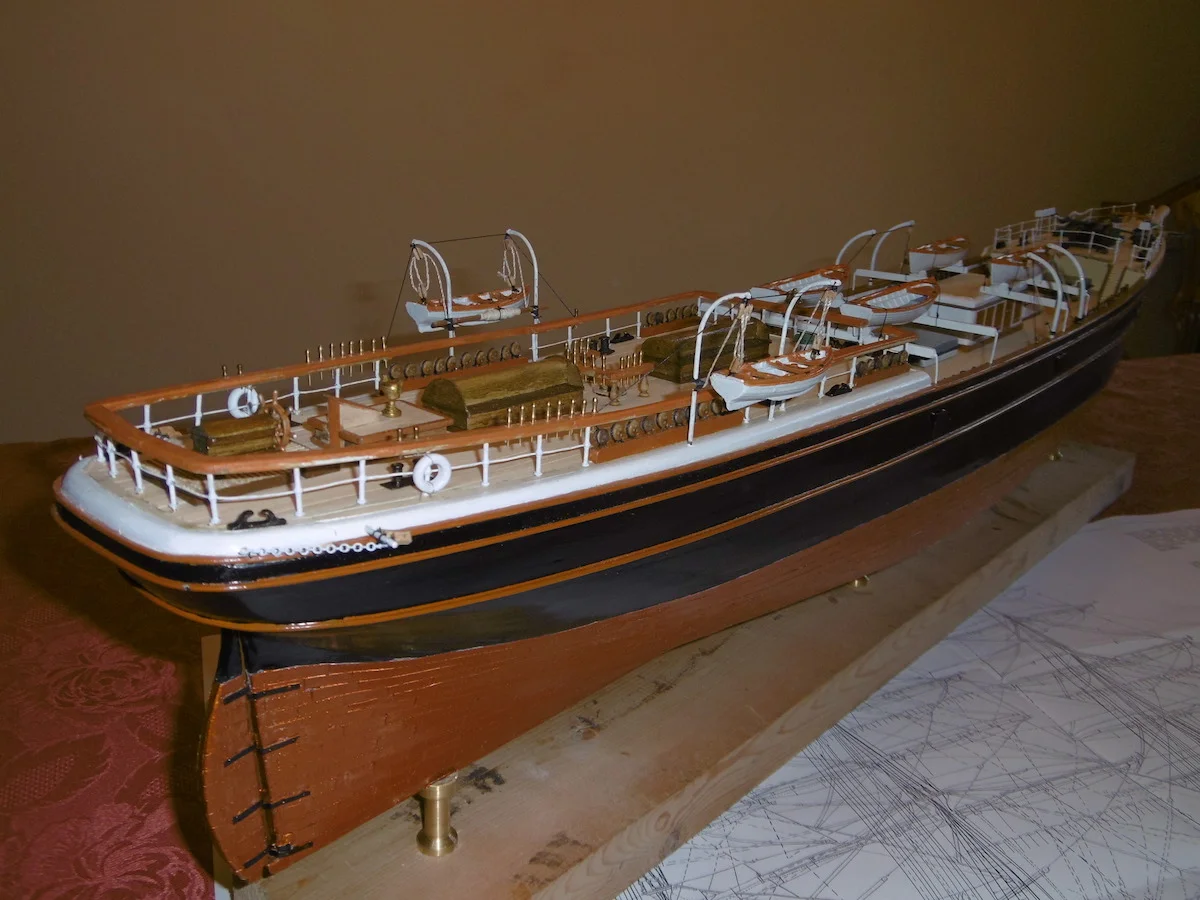 Considerable modification was needed to the deck layout as mentioned before, but fortunately the mast locations were unchanged from the "Cutty Sark" design. I obtained a set of scale open boats from Quaycraft. This may be seen as cheating, but I don't have the skill to produce a clinker boat at this scale, with a visually correct run of planking. It's not easy to build a boat of this size, and my results always look very agricultural!
This was my first large-scale vessel of this era, and I wanted to show the rigging correctly. The ship was to be depicted as a full-hull model, with sails sent down. The Sergal kit rigging left much to be desired. I obtained a second-hand copy of Underhill's "Masting and Rigging the Clipper ship and Ocean Carrier" (price three pounds six shillings); this proved invaluable. My workshop is in my garage, and the hull and deck work were completed by the end of autumn. I commandeered the breakfast bar in our kitchen to serve as the rigging shop so the model could be completed in the warm! Proof that any kitchen can be improved by the addition of a shipyard! Having sailed in square-rig I thought I was fully conversant with the complexities of the rigging of such a vessel. Underhill put me to rights on this! His work is truly awesome in its description and illustration of the subject.
Together with Underhill's excellent drawings of the vessel, I was able to complete what I believe is a reasonably authentic replica of this famous vessel. Posthumous thanks are due to Harold A Underhill, and to my parents for taking me to Greenwich all those years ago.